A Wesco Septic, Inc
A Wesco Septic, Inc. A Wesco Septic, Inc is one of the Three Best Rated® Septic Tank Services in Seattle, WA.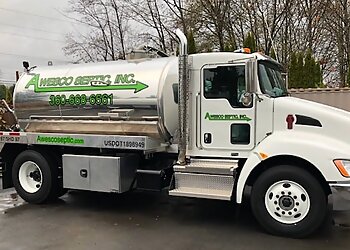 is your premier full-service sewage and septic specialist serving Seattle and the surrounding areas. With a strong commitment to professionalism, courtesy, and affordability, they are dedicated to providing you with top-notch solutions for all your septic needs. A Wesco Septic, Inc. prioritizes the use of safe, sanitary, and environmentally conscious techniques. They understand the importance of maintaining a healthy balance of beneficial bacteria in your septic system, which is why they rely on trusted aerobic treatments. These treatments help ensure that your septic system functions properly, promoting optimal performance and longevity. Equipped with high-quality equipment and backed by years of experience, A Wesco Septic, Inc. is well-prepared to meet your specific needs and accommodate your budget. Whether you require routine maintenance, repairs, or a complete system installation, their team of seasoned professionals is here to assist you every step of the way.
Septic Tank Pumping

Side Sewer Hookup

Drainfield Vacuum

Buyer and Seller Inspections

Inspection Services

Enzyme Service

Repair

Systems Designed

Installation

Pumps

Filters

Baffles

Electronic Locating

Camera Work

Residential

Maintenance & Monitoring
This is the second time I have used A Wesco at two different properties. The techs are trained and experienced, know what they are talking about, and have repair equipment on the trucks. You are not waiting days for another appointment or a different company to do the repairs. I specifically did not want to waste my time with a company that only pumps septics and these were the guys. Brand new quality pump and out of here in a couple of hours. Billy and Jessie were great, thank you guys so much!! Suzanne.
I had a great experience with A Westco. They came to our house during the holidays to fix an emergency septic problem and performed great work. They were responsive, friendly, and did a great job of explaining the issue and fixing the problem. Highly recommend.
We are very satisfied with the work done by A Wesco Septic Services. The representatives ( Tony and Nolan) were professional, knowledgeable and they did a great job explaining the process and effects of the job.
Nearby Septic Tank Services in Seattle: