Ace Auto Repair & Tire Pros
Ace Auto Repair & Tire Pros is a prominent auto repair shop in Seattle, catering to a diverse clientele. Ace Auto Repair & Tire Pros is one of the Three Best Rated® Car Repair Shops in Seattle, WA.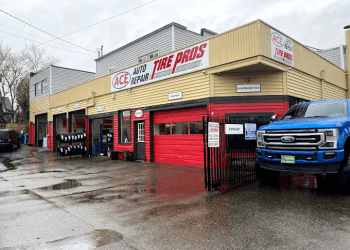 Dave P is the owner of the shop. The skilled mechanics handle all automotive repair and maintenance tasks at Ace Auto Repair & Tire Pros, ensuring top-notch service. Whether you own a car, truck, mini-van, or SUV, their dedicated mechanics work diligently to optimize your vehicle's performance before it departs their service bays. With expertise spanning various makes and models, their auto repair shop exemplifies their customer-centric approach. Their well-equipped mechanic shop accommodates a wide range of vehicles, equipped with high-quality tools and equipment for efficient repairs. Their commitment lies in providing exceptional auto repair services, characterized by transparent and honest price quotes, prompt resolution of issues, and the use of premium products and parts. Their nationwide service warranty covers parts and labor for specific services for 24 months or 24,000 miles. Above all, customer satisfaction has always been their foremost priority. Ace Auto Repair & Tire Pros also serves Bellevue, WA, Kirkland, WA, and the surrounding areas.
Air Conditioning

Air Filters

Batteries

Belts and Hoses

Brake

Cooling System

Driveline

Engine and Diagnostics

Electrical and Electronic

Fluid Inspection

Lift Kits

Preventative Maintenance

Muffler

Oil Changes

Roadside Assistance

Suspension

Tire Balancing

Repair

Rotation and Installation

Tune Up

Wheel Alignments & Windshield Wiper Blades
This was truly the best car shop experience I have ever had. I will be going to Ace for all my inevitable future car stuff because of how easy and chill it was. I popped my tire and even though they were super busy, they got me in right away, Chris phone guy was so easy to talk with, they gave me a price that was very reasonable for the job- surprisingly reasonable- fixed up my tire and I got my car back the next day. They also have a really cool giant Jade plant in the shop that adds a great calm vibe. Thank you guys so much!!
A couple weeks ago, I got a flat tire and was looking for a place to repair it. As a new resident of Seattle, I have never been to any auto repair places in the area and was quite nervous about where to choose. I ended up going to Ace Auto Repair and I am so glad I did. They were able to take my tire, repair it, and put it back on for me, all in a couple of hours. I was so grateful they were able to fix it and make the experience a good one. The guys working there are also super nice and made the situation an easy one. I will for sure be coming back if I have any car troubles in the future. Thank you guys!
I had a pleasant experience at ACE Auto Repair. I got a flat tire problem, thought I would have to buy a new one, but they fixed it. I also did the maintenance they recommended with a very reasonable price. I'd recommend the business to anyone who is looking for a honest auto repairs shop.
Mon-Fri: 8am - 12pm
Sat & Sun: Closed
Nearby Car Repair Shops in Seattle: