Defensive Driving School
Defensive Driving School, an esteemed driving institution in Seattle, is widely recognized for its exceptional quality and extensive expertise. Defensive Driving School is one of the Three Best Rated® Driving Schools in Seattle, WA.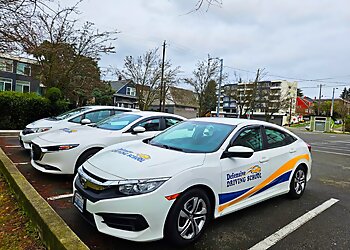 With a commitment to fostering lifelong driving success, the school equips students with the necessary skills to maintain a collision-free record and avoid traffic violations. Backed by a knowledgeable and supportive staff, along with enthusiastic instructors who genuinely care about each student, Defensive Driving School creates a conducive learning environment. The school offers the convenience of pick-up and drop-off services for lessons and tests, ensuring a seamless experience for students. Moreover, Defensive Driving School provides insurance discounts to further benefit its students. As a special offer for alumni, graduates of their teen program can avail of a discounted testing package for a limited period upon completion. Notably, with nearly 30 locations across the Puget Sound region, Defensive Driving School possesses a wealth of experience surpassing any other school in Washington.
Comprehensive Evaluation

Eight Hour Defensive Driving Course

12 Hours and 90 Minutes Lessons

1 Hour

90 Minute Stick Shift Class

DOL Written and Drive Testing

Stick Shift Training

Teen

Driver Improvement Program

Remedial

Beginning & Handicapped/Rehab Drivers
Took a few driving classes along the knowledge and skills test with DDS U-district. Maggie and Luke are good instructors. Helpful and kind. It's valuable that one can "shift gears" and choose a different instructor as and when one's requirements evolve. Tyson was a fair examiner on the skills test and the whole experience has been nothing but good!
I took the driving test here. Jimmy Green was very patient throughout the process. He is knowledgeable and gave some useful advice as well.
I took my warm up lesson and skill test with my instructor Jimmy G. He is SUPER nice, knowledgable, patient, and responsible. He gave me lots of helpful advice. Highly recommend him!!!
Adult Driving Lessons:
1 Hour Lesson: $115
90 Minute Lesson: $195
90 Minute Lesson w/ pickup: $275
12 (1 Hour) Lessons + License Testing: $1554
10 (90 Minute Lessons) w/ pickup + License Testing: $2924
5 (1 Hour) Lessons + New Driver Workshop: $624
5 (90 Minute) Lessons + New Driver Workshop: $1024
5 (90 Minute) Lessons w/ pick-up + New Driver Workshop: $1424
10 (90 Minute) Lessons + License Testing + New Driver Workshop Price: $2124
30 Minute Warm-Up + License Testing (Knowledge + Skills Test) - Company Vehicle $200
30 Minute Warm-Up + Skills Test - Company Vehicle $165
Knowledge and Skills Test - Company Vehicle $125
Skills Test - Company Vehicle $90
Knowledge Test (2 attempts) $35
Nearby Driving Schools in Seattle: