Roadsafe Driving Academy
Roadsafe Driving Academy aims to provide a comprehensive foundation of knowledge and skills that will empower individuals to become safe, responsible, and self-assured drivers. Roadsafe Driving Academy is one of the Three Best Rated® Driving Schools in Seattle, WA.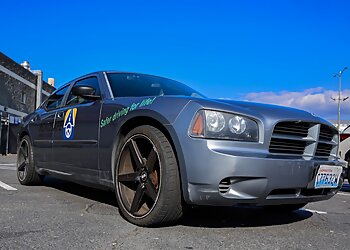 With a focus on instilling attitudes associated with a lifelong commitment to safe driving, this driving school prioritizes the well-being of its students. Notably, Roadsafe Driving Academy is authorized by the Department of Licensing (DOL) to administer road driving tests for both teens and adults aged 18 and above. By maintaining small class sizes, the academy ensures a personalized and tailored experience that caters to the demands of today's ever-evolving and challenging driving environment. Utilizing the Washington risk prevention curriculum, Roadsafe Driving Academy delivers a curriculum that addresses contemporary driving risks. Furthermore, the academy offers flexible scheduling options, available seven days a week, and delivers quality service at reasonable rates. Additionally, students have the convenience of utilizing the training car for road tests. As an added benefit, Roadsafe Driving Academy provides complimentary driving skills evaluations to further enhance the learning process.
1-4 Session of Observation (Behind the Wheel)

30 Hr State Certified (Classroom Lessons)

Teen Driver Education

Knowledge Test

6 Hours of Behind the Wheel Training

Skill Test or Driving License Test

3 Days a Week- 2 Hrs Sessions -5 Weeks Long

Adult In-Car Lessons & 40 or 60 Minutes Warm Ups + Skills
Highly recommend this place for newbee (especially if you leave near neiboughood, this is your dont-go further choice). I live far away from this school and also in a tight schedule of getting a license, also learn from nearly scratch, i previously hire some one from other school for two classes then i switch to this one(which turns out later to be a correct decision)When I explained my situation to the school boss, they were incredibly accommodating and created a customized driving class that fit my schedule perfectly. I was even able to get my preferred instructor, Hodan, who has been instrumental in my progress. Here i'd like to shout out particularly for my favorite instructor Hodan, she makes every penny worth it and every class i have with her is not without great joy and learning. She's smart, with tons of skills and delightful person you would like to spend your time with.
Great experience at Roadsafe driving. I took driving skills test here, and it was the best experience so far since I took them twice somewhere else and highly regretted that. They were very kind and professional. My instruct was very knowledgeable and gave my excellent driving tips and guide me during my warm up session, I learned so much is 30 minutes than during the driving classes I took at another driving school. Great professional peoples. Highly recommended and will definitely recommend it to all my friends.
Roadsafe driving academy was the best driving school and A big thank you to my instructor/teacher Hodan, she is very patient, understanding, professional and good motivator. And With her guidance and patience she taught me the skills to become a safe driver. I totally recommend.
Teen Packages:
standard $500
advanced $750
super $950
adult Packages:
standard $350
advanced $675
super $1050
warm-Up & Skills Testing:
20 Minutes for $120
40 Minutes for $145
60 Minutes for $175
Extras:
$30 - Knowledge Test - Upto Two Attempts Same Day*
$65 - Skills Test Using the Student's Private Vehicle
$90 - Skills Test Using the School's Vehicle
Discount
Refer a friend and claim $15 cash
Mon-Fri: 9am - 8:30pm
Sat & Sun: 9am - 7:30pm
Nearby Driving Schools in Seattle: