Safety First Driving School
Safety First Driving School is dedicated to providing certified driver's education programs in Washington. Safety First Driving School is one of the Three Best Rated® Driving Schools in Seattle, WA.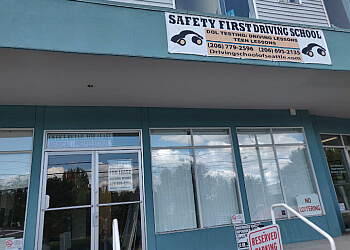 They have a team of experienced and licensed driving instructors who prioritize teaching safe driving practices. Whether you're a teen or an adult, Safety First Driving School strives to deliver an exceptional learning experience. They firmly believe that building a company based on respect, honesty, and fairness leads to the highest levels of customer satisfaction. Creating a comfortable and supportive learning environment is a top priority for SFDS. They offer personalized behind-the-wheel driving education tailored to your individual abilities, ensuring a swift and effective learning process. Their classroom curriculum is designed to promote awareness of one's surroundings on the road. Teens have the option to register as a group with friends, which allows for cost savings.
Traffic Safety Education Course

30 Hour of Classroom Sessions

Teen

6 Hours Driving

1 Hr Lesson

6 Hrs and 5 Hours of Observation

8 Hours and 90 Minutes Adult Behind-The-Wheel Lessons

DOL Skills and Knowledge Test & Adult Classes
I highly recommend Safety First Driving School to anyone looking to learn how to drive safely. The instructors are patient and knowledgeable, and they take the time to explain the rules of the road in a way that is easy to understand. I felt confident driving after taking lessons with Safety First Driving School, and I passed my driver's test on the first try.
Enjoyed my experience with Safety First Driving School! Herman and Brook were so helpful, I felt really comfortable behind the wheel. I would highly recommend this school to anyone.
I was able to take my knowledge test, driving lessons and then the driving test all successfully at their location in Shoreline. Great work!
Mon-Thu: 9:30am - 6pm
Fri: 9:30am - 5pm
Sat: 9am - 5pm
Sun: Closed
Nearby Driving Schools in Seattle: