Tie's Dry Cleaners & Laundry
Tie's Dry Cleaners & Laundry is a family-owned and operated dry cleaning company that has been serving the community for over three generations located in Portland, OR. Tie's Dry Cleaners & Laundry is one of the Three Best Rated® Dry Cleaners in Portland, OR.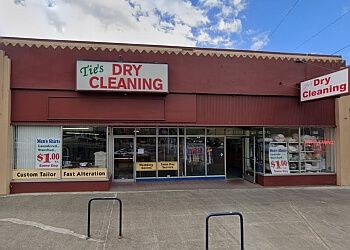 The dry cleaner is dedicated to providing professional, high-quality dry cleaning services at a reasonable price. They also offer ironing and alteration services. Tie's Dry Cleaners & Laundry serves homeowners, hairdressers, sports coaches, and more, providing laundry services that remove all stains, odors, and dirt from clothes. Their experienced team of professionals has been trained and educated to provide the highest quality dry cleaning treatment to your clothes. They use non-toxic, chemical-free solutions and state-of-the-art machinery to ensure their customers receive the best service possible. Tie's Dry Cleaners & Laundry has earned a reputation as a top choice for dry cleaning services in Portland, offering professional tailoring services and cleaning for clothing and household items. With over 36 years of experience, Tie's Dry Cleaners & Laundry is dedicated to providing excellent customer service and quality results.
Evening Dress

Professional Finishing

Shirts

Formal Wear

Stain Removal

Laundry

Pressing

Coats

Household Items

Trousers

Ties Cleaning

Suit Covers

Wedding Dresses

Bedding

Skirts

Duvets & Tablecloths
I've been going here for my alterations and dry cleaning for a few years now, and this time I went in to get a dress tailored for an event I'm going to. The staff is exceptional, friendly, and helpful, and both the tailor and her daughter are great, I regret that I do not know their names! I let them know when I would be leaving for my event, and they got the dress done 3 days earlier than their usual turnaround time of 1 week. When I tried it on at home, it was perfect! I'm very excited to go to my event and not trip on my dress. Highly recommend!
It was awesome as usual. Been doing business with them for 15 years now. They got the best starch for Jean's and shirts . An the pricing is off the hook. I would never go anywhere else they are good people and did I mention they also do awesome alterations. Yep the best cleaners in portland !!
Great shop. Does excellent work on area rugs of all sizes especially high-end wool and wool-blend carpets. Very swift service. Trustworthy.
Discount
20% on your first dry cleaning
Mon-Fri: 6am - 7pm
Sat: 7am - 7pm
Sun: Closed
Nearby Dry Cleaners in Portland: