Ben Bridge & Timeworks
Ben Bridge & Timeworks is a renowned jewelry shop that specializes in offering a stunning array of wedding sets, gemstone pieces and watches for both men and women. Ben Bridge & Timeworks is one of the Three Best Rated® Jewelry in Honolulu, HI.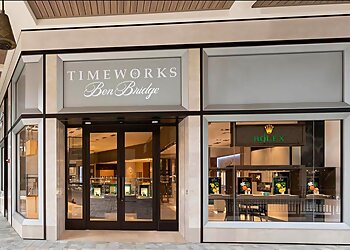 As a fifth-generation, family-run company, Ben Bridge Jeweler takes great pride in curating a selection of the finest diamonds, gemstones, and timepieces, including collections from renowned brands across the globe. With a rich history spanning over 100 years, their mission has remained unwavering: to serve as personal jewelers, helping you commemorate life's precious moments with jewelry that will be treasured for generations. Every aspect of their operation is dedicated to delivering beautiful, high-quality jewelry and an exceptional experience that is truly unmatched. Setting themselves apart, they boast an impressive team of Certified Gemologists, surpassing any other jeweler worldwide. Additionally, their certified watchmakers bring unrivaled expertise and skill to assist you in finding the perfect piece.
Gold

Gemstones

Birthstones

Necklaces

Earrings

Bracelets

Engagement Rings

Bridal Sets & Watches
I had a fantastic experience at this high-end watch boutique. The salesperson (June) was very helpful and accommodating throughout the process, and I felt very comfortable making my purchase. I left the store with a stunning watch that I'm absolutely thrilled with. Thank you for a wonderful shopping experience!
Excellent customer service and care, in all steps. Miho was really attentive, kind and patient during all of the steps and she answered all my questions with utmost care. I fully recommend Ben Bridge Ala Moana for any timepieces and jewelry.
A great experience! Everyone was very polite and above all very patient with us as we took a long time to decide what we really wanted. I highly recommend this business for purchasing your next watch.
Mon-Sun: 10:30am - 6:30pm
Nearby Jewelry in Honolulu: