Bright Horizons at Seneca Street
Bright Horizons at Seneca Street offers comprehensive care and education programs for children aged six weeks to 5 years old, including Infant, Toddler, Twos, Preschool, and Kindergarten Prep programs. Bright Horizons at Seneca Street is one of the Three Best Rated® Preschools in Seattle, WA.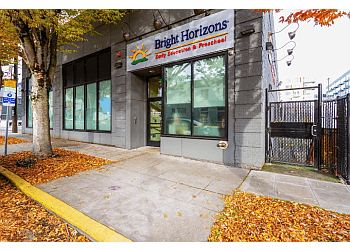 The preschool is deeply committed to providing globally recognized high-quality child care and early education. With a strong emphasis on safety, nurturing, and engagement, Bright Horizons at Seneca Street creates an environment where children can learn and develop to their fullest potential. The curriculum is meticulously crafted based on extensive research conducted by renowned education experts. Their aim is to inspire children to become confident explorers today and joyful scholars for life during these critical early years. Bright Horizons at Seneca Street actively encourages parents to maintain involvement in their child's education and offers parent education classes to ensure they stay connected with their child's learning journey.
Science

World Knowledge

Personal

Drama

Communication

Language

Scientific Thinking

Emotional and Physical Development Play

Art

Creative

Aesthetic

Mathematical Awareness

Music

Teamwork

Physical Health

Nature

Self-Help Skills

Social

Numbers

Talking & Listening
Seneca Street BH is absolutely wonderful. My son has been here since he was 4 months old, and we have had nothing but wonderful experiences. They have navigated the pandemic by putting protocols in place for the safety of staff and families, and I have never once worried about the safety or well being of my son. The new leadership team is great at communicating any updates at the center, consistently engaging parents for feedback or suggestions, setting up Zoom parent teacher conferences, and having smooth transitions when moving up to different classrooms. If you're wanting a place where your child is safe, loved, engaged in fun and stimulating activities, and introduced to a variety of healthy and nutritious foods- I cannot recommend Seneca Street BH more.
My sons have been attending Bright Horizons at Seneca Street for more than two years and we have been very happy with our experience. The staff is all so caring and welcoming and the teachers have been fantastic. My kids have learned and grown so much and really enjoy the curriculum, facility and all of the friends they've made!
We've had a great experience so far! Our child seems to love it and is always happy at drop-off and pickup. Teachers and staff are wonderful, communication is great, and the menu is diverse and sounds delicious. The center is also doing a great job of implementing Covid protocols. We couldn't be happier with our decision.
Mon-Fri: 7am - 6pm
Sat & Sun: Closed
Nearby Preschools in Seattle: