Kiddie Academy of Seattle at Queen Anne
Kiddie Academy of Seattle at Queen Anne is dedicated to providing a family-oriented and exceptional education experience in Seattle. Kiddie Academy of Seattle at Queen Anne is one of the Three Best Rated® Preschools in Seattle, WA.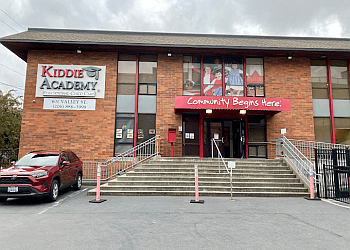 The preschool prides itself on cultivating a warm, safe, and friendly environment where children can thrive. For years, the school has been preparing children for both their academic journey and their overall life experiences. The school's programs are thoughtfully designed to help children master the fundamentals while instilling a genuine love for learning at their own pace. The dedicated tutors prioritize comprehensive child development, including social, emotional, cognitive, and physical growth. At Kiddie Academy of Seattle at Queen Anne, children are encouraged to explore and progress in their unique way and at their individual pace through a tailored approach and curriculum. Highly trained teachers are present to guide, nurture, and foster each child's development. The preschool strongly believes that every Kiddie Academy should feel like an extension of the family, creating a strong sense of community.
Infant

Toddler

Transportation

Jumping

Classroom Computers

Tablets

Throwing

Gross

Fine Motor Skills

Retell Them

Walking Backwards

Balancing

Science

Social and Emotional Development

Catching

Character Education

Communication

Engineering

Playtime

Mathematics

Dramatic Play

Stories

Puzzles

Language

Arts

Literacy

Sing & Blocks
Kiddie Academy of QA is most caring with my child. It is a place with high standards for safety, a nurturing environment, and a high quality learning and activity program. I love the focus on emotional development. Staff are all very loving and clearly love their jobs. I love the in room cameras to check in on my child during the day. All meals are provided, even breakfast, which means I don't have to pack anything but a water bottle. Debbie, is a great and capable director in charge of this center. Can't say enough great things about this daycare. It is so much more than simply a daycare....
We've experienced many day cares, but this is one of the best. There teachers are caring and considerate. The facilities are new and absolutely immaculate. And even in the heart of Seattle there is an outdoor playground (there's an indoor one too)! Above all, we appreciate the Pre-K curriculum. Other places are woefully deficient, but here the kids are learning a lot. My son comes home with a smile, at drop off he's happy, and I can trust he has a good start for kindergarten! Highly recommended!
The team at Kiddie Academy goes above and beyond to provide a safe and educational environment. Our son genuinely loves going to school, enjoys his teachers, and rapidly learns new skills in the classroom.
Mon-Fri: 7:30am - 6pm
Sat & Sun: Closed
Nearby Preschools in Seattle: